Labels: Fine Art of Blogging
posted by S A J Shirazi @ Friday, January 27, 2012, , links to this post


Labels: Sitaroon Ki Bastiyan
posted by S A J Shirazi @ Friday, January 27, 2012, , links to this post


posted by S A J Shirazi @ Friday, January 27, 2012, , links to this post


Light Within


Wednesday, 25 January 2012
Labels: Books
posted by S A J Shirazi @ Wednesday, January 25, 2012, , links to this post


Read more »
Labels: Lahore School Convovation 2012, Lahore School of Economics
posted by S A J Shirazi @ Tuesday, January 24, 2012, , links to this post


Home


Sunday, 22 January 2012
Sajini Chandrasekera



Life is a miracle in this universe
And the engine of life is linkage
Water, air and nature are united
To make a perfect living sculpture

Earth is a miracle, while life remains a mystery
United by customs and rituals hindered down
And great adventure of life on earth
That every living being plays it's role

Humans shape the land with patience and devotion
Energy of sun captured by rays of clouds
Pocket of sunshine chase away the scars of drought
This has become the new magmare of time

The energy puts up a fantastic show
The days seems to be no more than reflection
Nights have turned the city into starry lights
The pieces of stars buried in it's own creation

We haven't understood what nature provides
So enjoy the circle of life that's given to us
Giving birth to sparkle cities and many more
Not understanding that earth cant take it any more

We are destroying a cycle of life that's given to us
We have forgotten that resources are scares
Factory ships emptying the oceans day by day
And once mighty rivers no longer flaws today

Hunger spreading more and more
Effecting all human beings
Population is most catastrophic
Increasing the thirst for energy

Little by little we have upset the earth's balance
Nature is already being disrupted
Our eco systems don't have borders
Every thing has become unstable

Change is ticking in this magnificent landscape
We have created a phenomena where we cannot control
All we have seen is a reflection of human behaviour
We have shape the earth to our image

So look around and see that we have very little time to change
The cost of our action is high above others
Every one pays their price without actively involved
And generations to come will have nothing left to loved

Let us be stronger than the soldiery selfishness
Lets built harmony between humans and nature
Lets be responsible for our every action
Lets care for the riches of our earth......
Labels: Poetry, Sajini Chandrasekera
posted by S A J Shirazi @ Sunday, January 22, 2012, , links to this post


Labels: Fine Art of Blogging
posted by S A J Shirazi @ Wednesday, January 18, 2012, , links to this post


New domains


Wednesday, 11 January 2012
This news has initiated a debate amongst the various stakeholders since May 2008, when ICANN first came up with the idea of expanding gTLDs "to unleash the global human imagination. The decision to expand respects the rights of groups to create new Top Level Domains in any language or script. We hope this allows the domain name system to better serve all of mankind," says Rod Beckstrom, the CEO ICANN.
Businesses and governments are analyzing the impact of proposed expansion of gTLDs on the internet with caution and concern. The focus for many brand owners has been to argue against the expansion of the name space, or at least to postpone it till the internet really needs such a change and till a more efficient brand right protection system is in place. But ICANN is going ahead with the program. A global awareness campaign to educate the world about the expected changes in the in the cyber space is in the air and will be launched anytime.
The decisions will vary from industry to industry and business to business but one thing is for sure; new gTLDs are not for everyone. The option is costly; $185,000 initial application fee plus $25,000 a year to run the registry. If someone else wants the same domain, bidding will determine the winner. And another fee will crop up when a registry is setting up secondary domains on a top-level domain. One wonders what might be the rationale for the proposed fee structure by ICANN - a nonprofit entity. The price tag alone leaves small and medium sized businesses out of the big name games.
Owning a ".sports" TLD for anyone in the industry manufacturing sports goods sounds like a good idea provided the business can afford outbidding other sports goods manufacturers and the fee. The opening up of new gTLDs is certain to set off a wave of new activities on the internet domain space that could fundamentally change existing practices related to domain name use and search engine optimization, and more broadly impact internet based advertising, promotion and ecommerce. Unless it happens, no one can say how? Big businesses have already started research to judge the impact to their businesses of this impending change, and are reviewing the recently revised and published ICANN draft guidebook closely for insights. Some companies (like Canon) have already announced that they will apply for custom suffixes (.canon).
Biggest advantage to ask for a new gTLD is to have a key generic term in any industry. The new internet domain space may open the potential for new ideas to improve an online presence in the marketplace. It can also open new opportunities for communities, cities and regions who would like to have more powerful presence on the internet.
But who really needs a new gTLD? Analysts say that proposed gTLDs expansion will solve problems that do not exist. The current dot-com structure works fine as it is. The expansion of the gTLDs will only challenge existing online branding and brand protection and marketing strategies at all levels adding more noise. The businesses will feel forced to spend huge sums in fees to ICANN and legal firms in order to reserve names to protect their trademarks from cyber squatters who could use them for spam and criminal activities.
The only winner in this program seems ICANN that will reap millions in fees for domain names that are not needed in the first place and the United States that intends to retain control on the Web's critical naming system.
Labels: Business, Technology
posted by S A J Shirazi @ Wednesday, January 11, 2012, , links to this post


Labels: Food
posted by S A J Shirazi @ Monday, January 09, 2012, , links to this post


No one is sure but the most likely dates for Google PageRank Updates for year 2012 are:

First Google PageRank 2012 Update: 30 Jan, 2012 – 2 Feb, 2012

Second Google PageRank 2012 Update: 30 Jun – 2 July, 2012

Third Google PageRank 2012 Update: 30 Sep – 2 Oct, 2012

Fourth Google PageRank 2012 Update: 31 Dec – 3 Jan 2012

There may be some smaller PR updates in between.
posted by S A J Shirazi @ Sunday, January 08, 2012, , links to this post


Adil Najam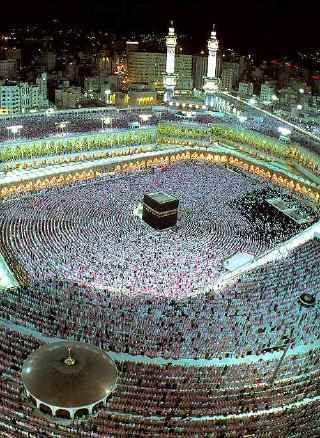 Congratulations for the over 2 million Muslims - including the nearly 200,000 Pakistanis - who performed Hajj yesterday.


To me, the Hajj is an amazing and powerful symbol of equality and unity in a world distraught with frictions and factions.

It is not just a symbol of 'Muslim brotherhood' but of human oneness. It is not simply a connection - in its rituals and its meanings - amongst the Abrahamic faiths; it is also a spiritually moving and visually powerful symbol of the unity of all humankind. There are those who wish to reduce the meaning of the message to merely one religion, or even one sect. I, at least, have always found it a more universal message and moved by the symbolism of unity and harmony of all.

It seems that everywhere and always we are not just divided but we take pride in our divisions. Our language, our vocabulary, our thought processes are geared to highlight our differences with others. We take a perverse pride in these differences, whether we consider ourselves to be 'superior' to others or we believe ourselves to be victims of differentiation.
posted by S A J Shirazi @ Sunday, January 08, 2012, , links to this post


Read more »
Labels: Book of Days, Books, Salman Rashid, Wheels of Empire
posted by S A J Shirazi @ Thursday, January 05, 2012, , links to this post


Read more »
Labels: Fine Art of Blogging
posted by S A J Shirazi @ Thursday, January 05, 2012, , links to this post


About


Sunday, 1 January 2012
Labels: About, S A J Shirazi
posted by S A J Shirazi @ Sunday, January 01, 2012, , links to this post